Music Graduates of 2000:
---
ADMITTED TO THE BACHELOR DEGREE: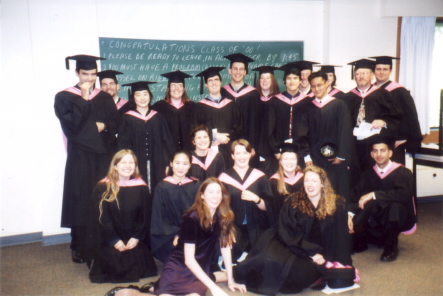 Back row: Mark William Beaty, Felipe Amore Sequeira, Monica Lu-ping Tang, Kassandra Dawn Whitehead, Michel David Wade, Gregory Douglas Johnson, Coralee Elizabeth Mazurek, Warren Edward Chow, Alistair Zacks, Jonathan-James Victor Eng, Dawn Mary Stilwell, Kenneth (Bruce) Hurn, Shawn Mitchel Peters.

Middle row: Jennifer Kathleen Manklow, Janice Li-Yuan Sheng, Deanna (Regan) Toews, Alexis Katalin More, Jaqueline Gail Coleman, Daniel Mark Tones.

Front row: Jody M. McIvor, Heidi Margarethe Muendel.

Missing: Dallas Bart Bergen, Charlotte Leah Burrowes, Ruby Han-I Chow, Eunjoo Enunice Chung, Richard James Crellin, Erika Crino, Wolf Man Edwards, Geoffrey Mark Godfrey, Jennifer Christine Gourlay, Carlie Frances Graham, Stephanie Carolyn Heisz, Robert Kwan, Nathan John Martin (he was late),Kristin Sarah McKnight, Lisett Cordeiro Raposo (she was singing in the ceremony therefore not in the room with us).

Congratulations to: for winning the Victoria Medal (awarded to the top student in the entire Faculty of Fine Arts).


---
MASTER OF MUSIC:
Susan Anne Bullock, Ying Chen, Cary Chow, Gregory James Corness, Dave Scott Montreuil, Tamaki Suzuki.
---
DOCTOR OF MUSIC COMPOSITION:
Mary Margaret Stiles, B. Mus. (King's College, University of London), M.M. (New England Conservatory)
---
HONORARY DOCTOR OF MUSIC:
Henryk Mikolaj Jozef Gorecki
---
Back